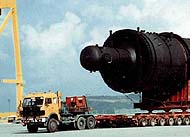 Siam Heavylift Co., Ltd.
Bangkok Office : Lumpinee Bldg 1 Room 31 & 32, 41 Rajdamri Rd, Lumpinee, Pathumwan, Bangkok 10330 Thailand Laem Chabang Office : 283/28 – 3rd Fl., Laem Chabang Tower, Soi Sukhapiban 8, Sukhumvit Road, Tungsukla, Chonburi 20230 Thailand E-mail: contact@siamheavy.com

ABOUT US

Siam HeavyLift is an independent company specialized in the transportation and the handling of heavy and abnormal cargoes.


The base of the company are the professionals running it. The management and technical teams have gained their experiences in other well established local and international project transport companies in Thailand and her surrounds.

We particularly pride ourselves that our team of 25 staff has members whose experiences go back to the 80's and who have experienced the technical changes and dynamics non-stop until today.



This huge wealth of practical experience, combined with modern management and fresh technical skills, is the basis for the provision of truly professional transport and handling services.