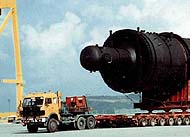 Siam Heavylift Co., Ltd.
Bangkok Office : Lumpinee Bldg 1 Room 31 & 32, 41 Rajdamri Rd, Lumpinee, Pathumwan, Bangkok 10330 Thailand Laem Chabang Office : 283/28 – 3rd Fl., Laem Chabang Tower, Soi Sukhapiban 8, Sukhumvit Road, Tungsukla, Chonburi 20230 Thailand E-mail: contact@siamheavy.com

LAOS - CAMBODIA - MYANMAR


Laos, Myanmar, and Cambodia are characterized by a lack of visibility with regards to the rules, the players and the logistics capabilities. Reliable equipment is hard to come by and often needs to be imported. The physical infrastructure - road / bridges - is often antiquated. Therefore, it is essential to work with a team that not only has the technical expertise but is also comfortable with the local way of conducting business, and who has a wealth of local connections.

Siam HeavyLift combines all this, and is one of the very few companies comfortably operating in all three countries:

In Laos, our experience dates back to 1993 before the first bridge was even built over the Mekhong. We have worked with and supplied various power plants and hydropower dams , mining and oil companies in the most remote areas. When bypasses to the French colonial bridges are not feasible, we may even use our army contacts to deploy floating bridges…

In Cambodia, we have very solid connections with the powers that be, which remains essential for any special transportation…once the equipment has been brought in for overseas, sometimes by barge through Vietnam.

Myanmar is the less transparent, and the most difficult one to operate in. Our partner is a member of a leading industrial group. It is one of the few operating an own modern fleet of prime movers, and access to all the resources - administrative and physical - necessary to support us to make a big move happen.